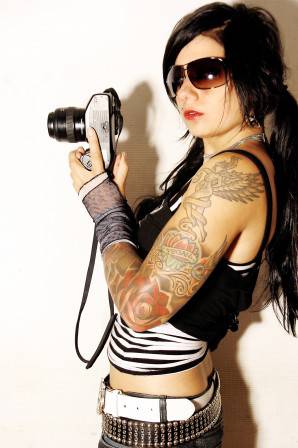 1
.ksr:how the first time you enter the scene?how about you start the photograph?have you ever have a band before?
cindy frey:i started going to shows when i was 17, so i think in 1991
my first show was no use for a name
and i went to many local hardcore shows after that
i started photography in may 2003 after being active in the hardcore and punkscene a lot
i used to do vegan catering for bands,
drive for bands, doing merch and i had an animal rights group called animal truth
2
.ksr:we talk about the photograph.where is the best place to take the photograph in a concert.in indoor or outdoor?
cindy:indoor , coz you get more atmosphere
unless its dark outside
3
.ksr:why you prever photograph to band?
cindy frey:i love also to take portraits of girls and do fashion photography
i like both
bands and fashion
4
.ksr:where is the special concert that you have been taken the photo according to you?and why?
cindy frey:i loved to photography blink 182, especially travis barker and it was in germany duffeldorf
coz he is an amazing drummer
5
.ksr:what is your next plan soon?
cindy:doing a shoot with first blood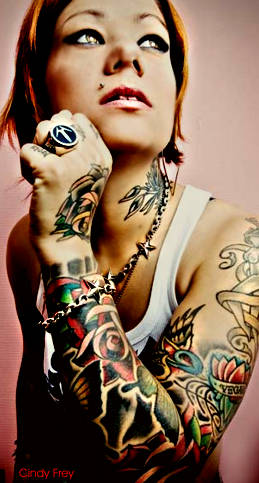 6
.ksr:thats great
actually that is my favourite band too
and in what concert you will take the photo?
cindy:ieperfest
carl the singer is my boyfriend
if you wanna interview him, let me know
i will give you his email
7
.ksr:yes thats a great colaboration.when your boyfriend sing and then you take his photo
cindy:
yes
and we are both vegan and straight edge
8
.ksr:are you straight edge?and are you a vegan too?
cindy:
yes
also like 16 or 17 years
9
.ksr:what is your opinion about the straight edge in the world now?
and what your opinion about sellout from sxe or vegan sxe?
cindy:many kids don't take it serieus , its a trend for some, for me its my lifestyle, for me its important to be sober and clear in my head
and i hate it to hear that people who are straight edge drop out, but doesn't mean i hate the people, it just makes me feel bad, especially the ones that sell out on vegetarianism and veganism, coz it shows they didn't believe in it
10
.ksr:thx for the interview.last word?
cindy:thank you too and make sure to check out my website www.cindyfrey.com and check out first blood and also read about vegetarianism and veganism